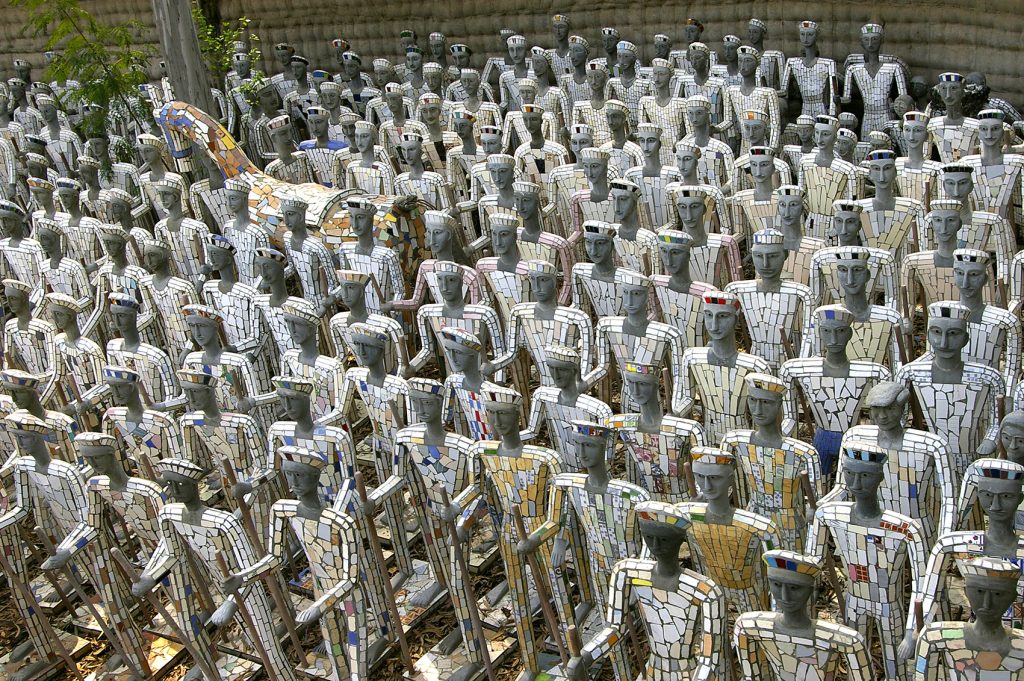 Crisis in Chandigarh
July 18, 2018
While $2000 entrance fees a day are taken from Rock Garden, the sculptures and structures of the Rock Garden are being just left to rot. The world's largest and most spectacular visionary environment, Nek Chand's incredible legacy, is under very serious threat as the Chandigarh Administration takes all the funding away and cuts out Nek Chand's son and family.
After many years of semi-neglect the position in Chandigarh has reached crisis point as the city Administration has given up all pretence of looking after the Rock Garden and has left it to deteriorate while taking all the entrance money of about $700,000 a year. Where all this money goes is a closely guarded secret.
There is NO conservation programme, NO repairs, NO staffing, NO guides, NO visitor supervision, NO working toilets or washrooms, NO care, NO pride and all the entrance money is syphoned off.
PLEASE make your protest known. This appalling state of affairs must not be allowed to continue unchallenged.
email the Prime Minister of India Shri Narendra Modi
Narendramodi1234@gmail.com(link sends e-mail)
Ultimately only the Prime Minister will have any effect. The Chandigarh Administration have proved over and over again that they are a real threat to the Rock Garden and just use it to steal all the entrance fees. The Rock Garden must be handed over to central government to administer with a proper conservation programme and staffing. The Rock Garden needs no funding at all as it raises its own funds from entrance fees but all the money is stolen and nothing goes to the Rock Garden.
Also:
If you are American:
The US Embassy in New Delhi will not let us have an email. The Embassy knows the Rock Garden and send parties of visitors there.
email the State Dept in Washington – they will follow up
https://register.state.gov/contactus/contactusform
If you are British:
email the British Deputy High Commissioner in Chandigarh asking them to investigate immediately
Andrew Ayre
British Deputy High Commissioner Chandigarh
web.newdelhi@fco.gov.uk(link sends e-mail)
email the British High Commission in New Delhi
Sir Dominic Asquith KCMG
British High Commissioner to India, New Delhi
web.newdelhi@fco.gov.uk(link sends e-mail)
email the Foreign & Commonwealth Office in London – they must respond
fcocorrespondence@fco.gov.uk(link sends e-mail)
If you are French:
email the Alliance Francaise in Chandigarh
Sylvain Choin
info.chandigarh@afindia.org(link sends e-mail)
other nationalities, please contact your embassies in New Delhi.
When sending to ambassadors or prime minister etc please us "His excellency" etc as an address.
• The Rock Garden is 25 acres of walkways, over 2000 sculptures, 2 giant waterfalls, the second most visited attraction in India after the Taj Mahal.
• Built over a period of 50 years by the visionary genius Nek Chand.
• The Chandigarh Administration are taking all the entrance money and spending nothing on conservation at the Rock Garden.
• Nek Chand's son Anuj Saini and family have been completely cut out.
• There is no conservation or repair programme.
• There are no staff supervising visitors so vandalism and graffiti are rife.
• All facilities, washrooms etc are broken and abandoned.
• Pumping systems for giant waterfalls in disrepair.